Headmaster Eric Cook describes the history, progress, delights, achievements, and challenges of Covenant Classical School in Fort Worth, TX.
About Covenant Classical School:
Covenant Classical School began with the vision of a small group of Fort Worth families in 1999. These families recognized the need for a Christ-centered, academically rigorous school that valued the biblical role of parents in the education of children. As the number of interested families grew, a distinctly Christian and classical vision for education emerged, and Covenant opened its doors that fall with just 14 students in a rented church building.
Significant growth in the early years was evidence of God's profound grace and the community's interest in this distinct style of education. Covenant's enrollment increased, and our student population quickly outgrew both the first and second rented facilities. As the third school location was secured, Covenant's leadership accelerated their search for a permanent "home" for the school and continued to increase grade-level offerings to the expanding schools of Logic and Rhetoric.
2007 was a momentous year for the school. Covenant purchased a 36-acre tract of land for a permanent campus, and two weeks later celebrated the school's first graduation ceremony: The future never looked brighter! As increasing enrollment continued to "burst the seams" of the third temporary location, a capital campaign commenced. In a remarkable one-year span of time, funds were raised to complete the land purchase, prepare the site, and break ground for Phase One of a multi-year construction plan.
In 2011, Covenant launched another campaign to construct its first permanent building on campus. The design of the building included a 31,000 square foot building with eleven classrooms, a competitive gym, and an auditorium. Through God's provision and an amazing $1.1 million gift Covenant began construction in December of 2012. The first day of classes for the Upper School building began in November 2013.
By the grace of God, the generosity of Covenant donors, and the tireless work of many volunteers, the 2009–2010 school year began on Covenant's permanent campus. Three classroom buildings, an administration building, a football field, and a playground are just the beginning of a multi-year plan prepared to accommodate many students to come.
Visit the Covenant Classical School website: www.covenantfw.org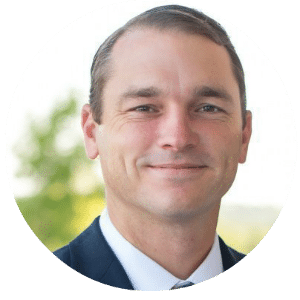 Eric Cook is from Lexington, KY, but worked in schools in Ohio and Virginia before joining Covenant Classical School in 2009. Eric earned a bachelor's degree in secondary social studies education from Transylvania University, and a master's degree in instructional leadership from Northern Kentucky University. He has taught history, political science, psychology, and philosophy in public schools, and served as an assistant principal for several years. In 2006, Eric felt called to join the classical Christian school movement and became the middle and upper school head at Faith Christian School in Roanoke, VA. In addition to his leadership roles, Eric taught apologetics, theology, and philosophy of religion, and served as thesis director.
Eric serves as chairman of the board for the Society for Classical Learning. The Society is a national organization that exists to "foster human flourishing by making classical Christian education thrive." Eric is excited about the work God is doing among classical Christian schools across the country and is honored to serve the movement. He speaks and writes about classical Christian education in a variety of contexts, but is most honored to lead a growing and thriving K–12 school in Fort Worth.
Eric is a voracious reader and a true lifelong learner, with special interest in the areas of philosophy, theology, education, and history. He is a passionate educator who enjoys golf and a good cup of coffee. Eric and his wife, Liz, have 6 children: Haydon, Olivia, Grant, Cole, William, and Lincoln.

In order to learn more about earning a certificate for this course, please visit our FAQ page and scroll down to the "How do I Obtain a Course Certificate?" section. Find out more about certification credit here.
Login
Accessing this course requires a login, please enter your credentials below!