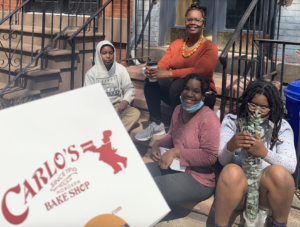 Recording a course recently with ClassicalU.com about education as a whole life endeavor was enriching, encouraging, and renewing. May it be so and more for all who watch it. This work involved a couple of weeks of travel as a family, and it was all wonderfully beautiful and gracefully amazing. I truly thank God for it all.
A day or two ago Pharoah, my 11 year old, who is full of light and wonder, asked if he could have a BB gun. Regrettably, without missing a beat I said, "Absolutely not," a little too forcefully.
I saw the surprise in his face. He asked, "Why not?" I knew his question was really about the tone of my response and not my no. Conscientiously trying not to dim his light too much, I said, "Because we live in a city and you wouldn't have the opportunity to use it how you imagine." Because his imagination has been encouraged and supported to have no bounds, to be free, I knew my frail attempt to pacify him made no sense.
I saw the puzzlement in his face. I said, "Well Pharoah, because we live in a city you wouldn't be able to hunt or even shoot it on a regular basis." He persisted in his search for clarity with the grimaces of his bright quizzical face. Feeling somewhat frustrated and trapped by these grimaces of his bright quizzical face, I blurted out, "Someone may mistake your BB gun for a real gun." I intentionally said someone and not the police because it could be anyone who could mistake my child's toy with my child being a danger. He incredulously responded with his face and words by saying, "But BB guns have blue tips and do not even look real."
In downtown Hoboken, NJ on a random street corner on the way to fulfill my children's desire to visit Carlo's Bakery, one of the TV shows we viewed together as a family, I narrated the tale of Tamir Rice. To the children whom I carefully and intentionally nurture, whom I shelter as healthily as I can within the reality of the world in which we live, I told the tale of how a 12 year old boy was shot at a playground by a policeman who said he mistook the toy gun for a real gun after a two second assessment. I let the children know with the tone of my voice that the unspoken incident lived within my imagination with the reality of a present and real danger for my own male child.
The education I am trying to pass on, the learning I am trying to nurture, the living I am trying to form within my children is deeply rooted in a Christian and biblical anthropology—that of a revelatory created order embedded in nature, purpose, and destiny. I believe we can know God, ourselves through our relationship with God, and thus know our purpose and ultimate end. So my thoughts, ideas, and practice of mothering and home education are lofty and aimed towards eternity, yet as people who live in this particular, place, and time, I have to center my thoughts, ideas, and practice in the temporal reality in which we live, while also guided by the eternal reality. This can mean for my family and me (as well as the many who live within the same temporal reality we find ourselves in) that we are raising, shaping, forming, nurturing, teaching, loving children—especially our boys—within and with a tinge of a bitter temporal reality while we also encourage them as much as possible to imagine, wonder, and ponder.
Author Danielle Bennette Dukes (B.S., Early Childhood Education, Florida A & M University) has homeschooled her six children from birth and is a native New Orleanian. She is married to her college sweetheart, Dion Dukes. She is a co-founder and former board member of Nyansa Classical Community and a graduate of Circe Institute's Apprenticeship program. She guides and directs her children and families of all backgrounds to integrate their faith and knowledge to cultivate Christian culture.
Note: Guest bloggers share their own thoughts as classical educators and learners and do not represent ClassicalU.com or Classical Academic Press. If you are interested in writing guest blog content, please contact us with your name, connection to classical education, and ideas for a blog post.