This course presents a pithy introduction and overview of ancient and medieval education, tracing the roots and genesis of the classical tradition of education. Dr. Post is a precise and clear teacher who does a superb job of summarizing and capturing the essence of important thinkers like Plato, Aristotle, and Augustine and their contributions to the classical tradition of education. This course is a fundamental course for any teacher wishing to understand how the classical tradition of education started and grew.
Teachers taking this course will also enjoy hearing Dr. Post's insights and passion for education in the recorded conversations with Dr. Christopher Perrin.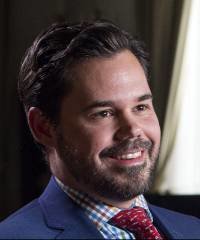 Dr. Matthew Post is the assistant dean of the Braniff Graduate School (University of Dallas) and directs the master of arts in humanities with a classical education concentration. Dr. Post has training and expertise in the liberal arts, philosophy, and political philosophy. He has taught courses on the ancient world, Plato, Augustine, political thought and philosophy, and the history of philosophy. Dr. Post is an ardent advocate of the renewal of classical education and works with classical schools and educators throughout the US.

To obtain a certification credit for this course, simply complete each presentation lesson or discussion in the course (by marking it complete or by taking the quiz) and then also take the certification test at the end of the course. The quizzes are designed to ensure that you have understood the essential content of each presentation, and they can be taken more than once if necessary. The cumulative certification test at the end of the course is given as a pass/fail test and requires that you upload one or more essays demonstrating your understanding of the course. (Please note that essays are simply evaluated by word count.) When you have completed the course, a certificate that you can print or email will become available within "My Courses" (accessible under "Courses" in the main menu when you are signed in as an active subscriber).
We recommend previewing the essay question within the end of course test before starting the course. This will help in guiding your note taking as you progress through the course. Please allow approximately 2 weeks for essay submissions to be reviewed.
By taking the course for certification credit, you also will be on your way to obtaining a Level 2 certification.
Login
Accessing this course requires a login, please enter your credentials below!