This course features presentations by and interviews with David Goodwin, executive director of the Association of Classical Christian Schools (ACCS). David Goodwin reviews the progress and trends he has observed in his role leading the largest and oldest organization supporting the renewal of classical education in the United States. As the former headmaster of The Ambrose School and now as the executive director of ACCS, David has visited nearly 100 classical schools and consulted with virtually every leader in the national renewal of classical education. His observations, insights, and recommendations are therefore deeply informed and helpful to anyone wishing to understand the present "state of classical education" and the various challenges, threats, and opportunities that lie ahead.
In this course, David makes some direct presentations and is also interviewed on various topics by Dr. Christopher Perrin.
To learn more about the Association of Classical Christian Schools, visit the ACCS website.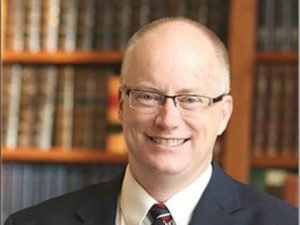 Mr. David Goodwin was the headmaster of The Ambrose School, a classical Christian school in Boise, ID from 2003 through 2014. He served on the ACCS board as an elected member from 2010 to 2014, and helped develop the strategic plan for the ACCS. He has been the full-time President of the ACCS since 2015. Prior to his work in classical Christian education, Mr. Goodwin spent 13 years in marketing and new business development for a large computer products manufacturer. He holds an MBA and BIS from Boise State University. He and his wife, Stormy, work as a team on many ACCS projects and attend All Saints Presbyterian Church in Boise, Idaho. They have 3 children who attend The Ambrose School.
David mentions several books that have informed his thinking about classical education, including:
The Greek Paideia by Werner Jaeger
On Christian Doctrine by Augustine

In order to learn more about earning a certificate for this course, please visit our FAQ page and scroll down to the "How do I Obtain a Course Certificate?" section. Find out more about certification credit here.
Login
Accessing this course requires a login, please enter your credentials below!