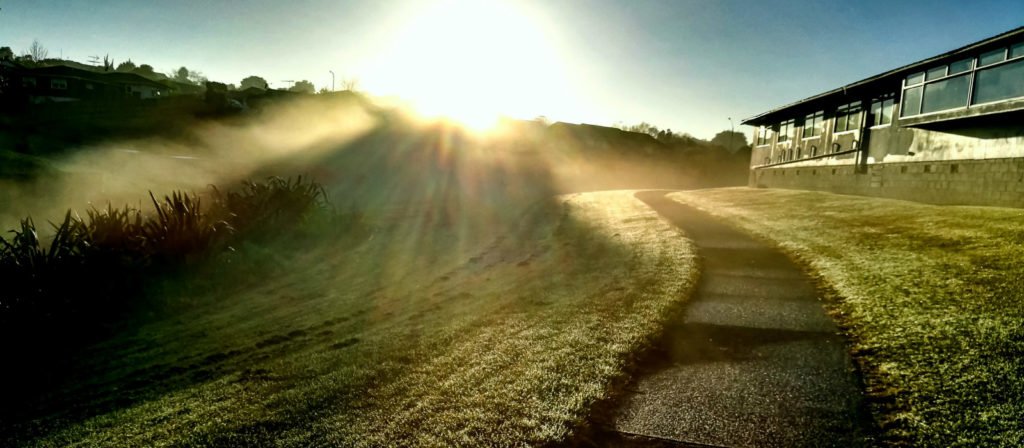 Enhanced and New Features on the All-New ClassicalU!
The All-New ClassicalU released on May 1 includes several exciting new features that we want everyone to use and enjoy. This article lists and explains each enhanced and new feature. Please note that you can also view a timeline of our planned new features and coming new courses on our ClassicalU Roadmap. 
ENHANCED FEATURES
THE NEW COURSE FINDER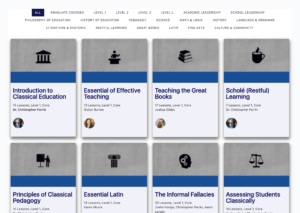 We have redesigned the our course catalog page and turned into a sleek, easy-to-use Course Finder. Now that we have over 50 courses on the site, we needed a better way to display courses and help users to find and select a course to take. The Course Finder includes a masonry-style sorting filter so that you can easily sort courses by one of several categories such as Level, Pedagogy, Leadership, History of Education, Philosophy of Education, Graduate Courses, etc.
THE SELF ASSESSMENT AND PATHWAY FINDER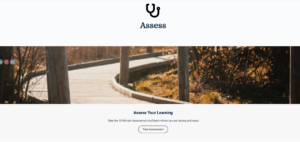 New subscribers to ClassicalU often want to know what courses they should take first and second and third. In other words, they are looking for a logical, meaningful pathway of courses to pursue. To provide guidance, we created a self-assessment tool that can be taken online in about ten minutes. The tool sends back the results of the assessment immediately to the user via email. Along with the results that show strengths and weaknesses across six levels, there is also a report recommending various pathways of study on ClassicalU. For example, if you score weak on the philosophy of education, the report will recommend a sequence of courses that will strengthen you in this area. The Pathway Finder works in conjunction with the Self Assessment Tool. You can use the Pathway Finder to select the sequence of courses you want to take in light of your Self Assessment Report.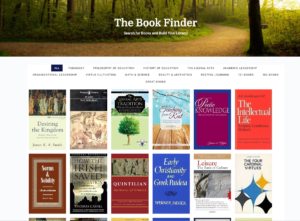 In addition to asking what sequence of courses they should take, ClassicalU subscribers often ask what books they should read. The Self Assessment Report does recommend some books to purchase and read but it also recommend that you use the Book Finder tool. The Book Finder contains over 75 books pertinent to classical education and provides a masonry-style filter that so that you can sort books by a variety of categories that are also keyed to your Self Assessment. You can view books and even click on them to go right to Amazon.com or other sites where you can purchase them should you wish. The Book Finder tool can help you build a wise book list and reading plan.
LIVE BOOK DISCUSSIONS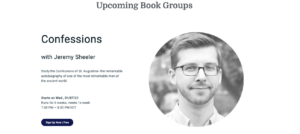 Subscribers to ClassicalU have let it be known that not only do they want help finding good books to read–they also want to read them with other like-minded educators. Therefore we created our Book Discussions feature so that subscribers can join a live Zoom meeting to discuss a great book led by an experienced facilitator (often a graduate of the St. Johns Graduate Institute). Each book discussion is free for all ClassicalU subscribers. It is easy to sign-up and each Book Discussion Group has its own group page that enables participants to correspond with one another and join the live discussions via a Zoom link that is contained right within the group. Each group is led by a veteran classical educator and any ClassicalU subscriber may sign up to join one of these online book groups (using Zoom) at no charge.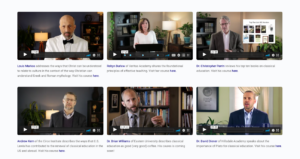 The Lecture Hall is a free section on ClassicalU that enables anyone to sample some of the presenters and course content on the site. This is good place to get a sense of some of the offerings on ClassicalU and and excellent page to share with friends and colleagues who might want to learn more about the course offerings on ClassicalU.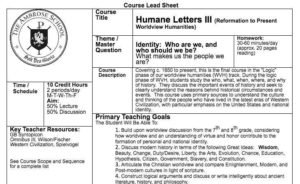 This remarkable resource is free to view and consult for all subscribers. It contains over 250 documents that provide guidance for selecting curriculum and course instruction for every course in a classical K-12 school or homeschool. The guide is valued at $995 (for purchase) but is available to all subscribers. Each document can be viewed though not printed or downloaded. Many subscribers have benefited from consulting this guide that now is displayed in an easy-to-use catalog format.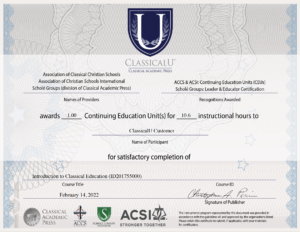 For virtually every course on ClassicalU, subscribers can earn Continuing Education Units (CEUS) and then automatically receive a CEU certificate right on the site (that is downloadable as a PDF). We can do this via our partnership with the Association of Classical Christian Schools (ACCS) as well as the Association of Christian Schools International (ACSI) that approves our courses and the certificates we generate on the site when a subscriber successfully completes a course. We also offer certificates for completing all of the required courses for Level 1 and Level 2 on the site.

NEW FEATURES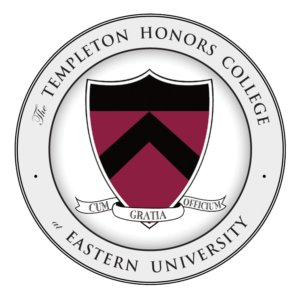 Through a partnership with the Templeton Honors College at Eastern University, we can now offer graduate courses and transferable graduate credits fo select courses on ClassicalU. We have made two such courses available at our May 1 release of the new ClassicalU but several more courses will be added throughout 2021. All graduate courses on the site are easily found on our Course Finder page under Graduate Courses and feature the Templeton college seal (above). To learn more about our partnership with the Templeton Honors College and the nature of these courses, please visit our Templeton Honors College page.
COHORTS
Our new Cohorts feature allows a group of teachers or school faculty to subscribe together on ClassicalU and then travel together as a cohort team with a leader or principal guiding, communicating, and facilitating the group. The cohort leader will be able to monitor progress of each teacher and suggest pathways of study. Each cohort will also have its own cohort space where teachers can correspond with one another and post and download documents. A cohort leader will also be able to add and remove teachers from the cohort during the course of a year.
EASY, ENHANCED SUBSCRIPTION AND ACCOUNT MANAGEMENT
One reason we developed our new platform in 2021 was to make it much easier for teachers and leaders to subscribe to ClassicalU (even as entire faculties) and then to maintain, adjust, and change subscription accounts. Our new software makes this straightforward and easy for individuals and leaders to manage subscription accounts.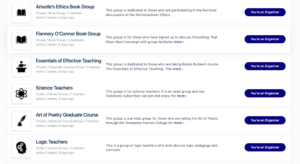 In our past platform, we did not have a great way of facilitating discussion and correspondence on the ClassicalU site. Our new platform includes a Groups feature that provides groups for various purposes: groups for those taking the same ClassicalU course and groups for those sharing an interest. When you join a group, you can easily correspond with everyone in the group via an embedded forum and even privately message group members. You can also post and download documents. For example, all subscribers taking Essentials of Effective Teaching can discuss the course and provide feedback in the group associated with the course. Latin teachers can join the Latin teachers group where they can discuss Latin curricula and pedagogy and post and download lesson plans, resources, etc.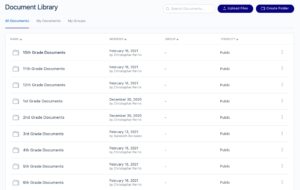 The new platform now includes a page that serve as a Document Library. This Document Library is set up with a folder for each grade (13 folders for grades K-12) and for various arts and disciplines (math, science, Latin, etc.). Subscribers can visit the library and download any file that has been posted in any folder. Subscribers can also upload files they wish to share with others who visit the library.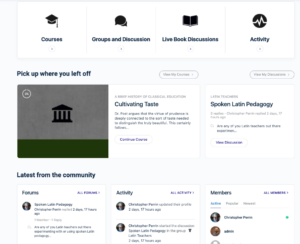 The new platform now features a very convenient Dashboard associated with each user account. This means when you login to the site you can visit the Dashboard page to see your recent activity, start and resume a course, resume conversations in groups of which you are part, and view the activity of other subscribers on ClassicalU.
IPHONE AND ANDROID APP

We will be releasing an all-new IOS and Android App in the fall of 2021. The new app will allow subscribers to download and view all presentations (or simply listen to them as audio files) on the go and enable participation in all discussion groups, live book discussions, etc.