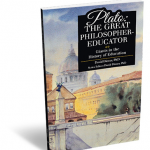 This course provides an introduction to the foundational philosopher Plato and his thoughts on education. Plato's philosophy of education has shaped the educational principles and practices of the Western world for over two millennia. In this course, Dr. David Diener guides educators through a discussion of Plato's background and context, some of his key insights on curriculum and pedagogy, and his educational legacy, closing with the relevance and implications of Plato's views for educators in the twenty-first century.
The course is based on the guidebook Plato: The Great Philosopher-Educator by Dr. David Diener. We recommend purchasing the text for reference throughout the course.
This book is also available as an audiobook, available from Audible.com here.
Dr. David Diener has a BA in philosophy and ancient languages from Wheaton College and an MA in philosophy, an MS in history and philosophy of education, and a dual PhD in philosophy and philosophy of education from Indiana University. He works at Hillsdale College, where he is Headmaster of Hillsdale Academy and Lecturing Professor of Education. The Dieners have four children and enjoy working, playing, loving, and laughing together.

In order to learn more about earning a certificate for this course, please visit our FAQ page and scroll down to the "How do I Obtain a Course Certificate?" section. By taking the course for certification credit, you will also be on your way to obtaining an elective credit toward a Level 1 certificate.
Login
Accessing this course requires a login, please enter your credentials below!