The Celestial Hierarchy: Further Reading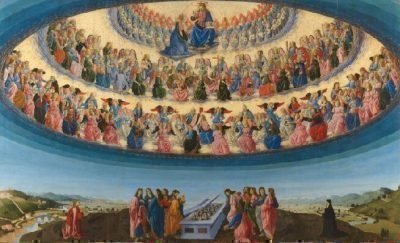 In this lecture, Dr. Turley discusses several models of the heavens proposed by medieval scholars. Dionysius, or Pseudo-Dionysius the Areopagite, wrote about one such model in the late fifth or early sixth century AD. In On the Celestial Hierarchy, Dionysius describes nine ranks of angelic beings divided into 3 hierarchies of 3 species each. For more reading on Dionysius, as well as summaries of his work, take a look at the Stanford Encyclopedia of Philosophy's entry "Pseudo-Dionysius the Areopagite," available online to read.
Models such as these influenced medieval art as well. For example, Francesco Botticini's The Assumption of the Virgin (pictured above), painted approximately one-thousand years later towards the end of the Medieval Period, shows 9 choirs of angels divided into 3 hierarchies, the Councillors, Governors, and Ministers. You can read more about this painting, as well as zoom in to observe its beautiful details, on The National Gallery's website here.